Murmur
| | | |
| --- | --- | --- |
| 1. | Radio Free Europe | 4:03 |
| 2. | Pilgrimage | 4:25 |
| 3. | Laughing | 3:51 |
| 4. | Talk About The Passion | 3:22 |
| 5. | Moral Kiosk | 3:32 |
| 6. | Perfect Circle | 3:23 |
| 7. | Catapult | 3:54 |
| 8. | Sitting Still | 3:07 |
| 9. | 9-9 | 3:02 |
| 10. | Shaking Through | 4:00 |
| 11. | We Walk | 3:04 |
| 12. | West Of The Fields | 3:15 |

All songs by Berry, Buck, Mills, Stipe except 12 additional words by N Bogan.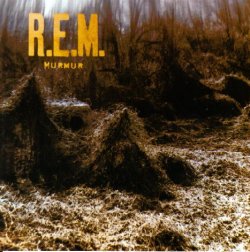 First Album.

Released: April-August 1983.
Record Label: I.R.S.
12 Tracks.
Duration: 44:14
R.E.M. would hone itself on sixties garage related rock and Big Star much to the consternation of its contemporaries. Each of its members drew inspiration based on the Seventies punk explosion (in specific example such as the Patti Smith Group) and those which preceded it when forming its aesthetic blueprint (such as the New York Dolls and the Stooges). Yet additional reverence and taste was given elsewhere due to input from buffs Buck and Mills. It is no surprise then that R.E.M. would not work well in conjunction with Stephen Hague. In his experience this producer would assist the Human League whose success was well recognised thanks to its single ''Don't You Want Me?'' Berry Buck Mills and Stipe would pair with Hague throughout ''Catapult'' for forty eight takes and find it utilised with synthesisers. An obvious sensibility clash would provoke the band to sever its brief ties to Hague and enlist Mitch Easter and Don Dixon yet again. But for this project R.E.M. would abandon its on stage musical routine in favour of producing what Buck would describe as ''floating''. ''Murmur'' would surface in 1983 to the chagrin of supporters familiar with ''Narrator''. This was a band whose torch was held in opposition to trends which were inherent within what was then ''new wave''. Both ethic and artistry led R.E.M. to include ''I Can't Control Myself'' in its setlist without acknowledgement of ''Cars''. Were they capable of producing the likes of ''Murmur''? They did to the delight of many. ''Radio Free Europe'' was brought to attention once again but in its second incarnation would contain more precision. Buck would relay the effect of jangle but would extend his implementation with an acoustic spin (''Talk About The Passion''). ''West of the Fields'' and ''9-9'' were in raucous pattern of ''Chronic Town''. The latter was panic stricken with the instrumental faction producing the appropriate musical environment for the topic at question sung as ''conversation fear''. Michael Stipe would confuse and compel at once with vocals intermittent in clarification. Yet by design Stipe- unlike Bono and Morrissey who would use the musical foundation to stand on- would utilise this as an instrument in alliance to the bass drums guitar combination thereby forcing listeners to examine its material in toto. Representative of this notion was in demonstration on ''Pilgrimage'' with its majestic use in near Gregorian expression. Bassist Mike Mills would find opportunity to assert versatility in the dual keyboards that lift the Bill Berry penned ballad ''Perfect Circle''. ''Murmur'' may not be R.E.M. at its best to date but could stand in argument as the best full length debut release by an artist within the rock/pop category.
By Michael Torno.