New Adventures in Hi-Fi
| | | |
| --- | --- | --- |
| 1. | How The West Was Won And Where It Got Us | 4:30 |
| 2. | The Wake-Up Bomb | 5:07 |
| 3. | New Test Leper | 5:25 |
| 4. | Undertow | 5:08 |
| 5. | E-Bow The Letter | 5:22 |
| 6. | Leave | 7:17 |
| 7. | Departure | 3:27 |
| 8. | Bittersweet Me | 4:06 |
| 9. | Be Mine | 5:32 |
| 10. | Binky The Doormat | 5:00 |
| 11. | Zither | 2:33 |
| 12. | So Fast, So Numb | 4:11 |
| 13. | Low Desert | 3:30 |
| 14. | Electrolite | 4:05 |

All songs by Berry, Buck, Mills, Stipe.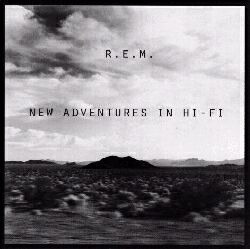 Tenth Album.

Released: 10th September 1996.
Record Label: Warner Bros.
14 Tracks.
Duration: 65:31
rk-rate is certainly understandable, for, whereas Monster was widely regarded to have been a loudly fizzing bomb that steadfastly refused to go off, New Adventures... hits its many and varied targets virtually every time.